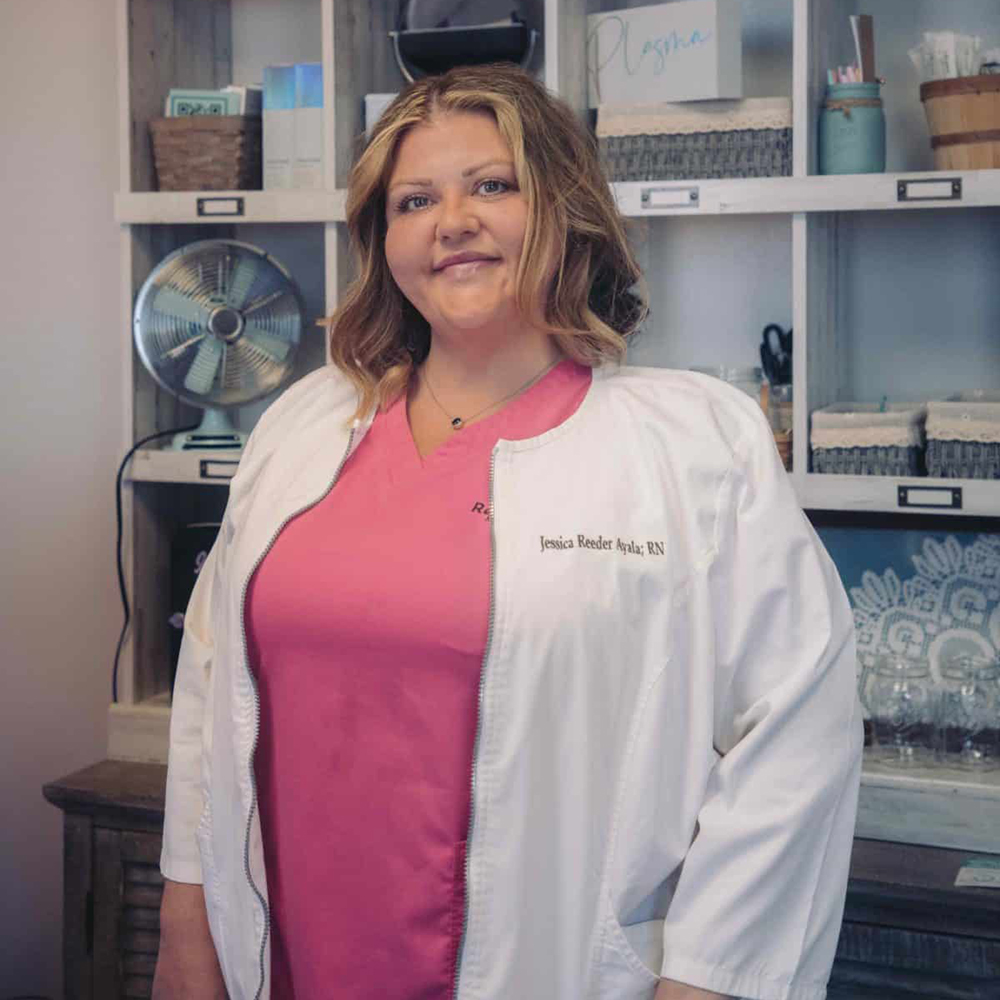 Meet the Expert: Jessica Reeder Ayala, RN
Get to Know The Owner of Rewind Spa in Firestone, CO
Jessica is a board-certified registered nurse who has practiced for over 20 years. She is passionate about aesthetics, science, and client care. Her science background and love for beauty treatments inspired her to open Rewind Medical Spa in 2019. Since the beginning, Jessica has made it her goal to turn back the hands of time by working with each client's individual needs. Striving for a natural-looking result, the professionals at Rewind Spa make a noticeable difference in every client who walks through the doors. Jessica is a member of the American Nurses Association, the Colorado Nurses Association, and the American Academy of Ambulatory Care Nursing. Additionally, she holds certifications in Advanced Aesthetics, Advanced Cardiac Life Support, Basic Life Support, Cryotherapy, IV Therapy, Teeth Whitening and more!
The team at Rewind Medical Spa doesn't just support you before your treatment but throughout the entire process. The team takes pride in their work and patient's satisfaction each and every day. At the best med spa in Firestone, CO, you're more than just a client—you're part of the family.
Meet Alex!
Alex is so thrilled to be joining the Rewind team, and working alongside the amazing Jess!
As a licensed esthetician, She's completely passionate about the beauty industry! From crafting customized facials to performing full body waxing and enhancing lashes and brows, Alex is all about helping you feel confident and fabulous in your own skin!
Beyond her work, spending quality time with her family is the most important. Alex loves to be outdoors enjoying the beautiful state (always with sunscreen, of course!) You can also find Alex playing board games or enjoying a movie night at home. Alex is a proud pet parent with 4 adorable cats and a sweet collie.
Alex is so excited to embark on this wonderful journey with you all, and can't wait to share beauty tips, fun stories, and connect with this incredible community!
She will be performing the following services:
Facials, Waxing, Lash Lift, and Tinting
*Pricing listed below*
Skin Care
Basic Facial
• Double cleanse
• Massage
• Mask
• Serum
• Spf $40
Custom Facial (60 min)
• Double cleanse
• Extended Massage
• Extractions
• Mask
• Serum
• Spf
• 1 add on (light therapy, high frequency, jelly mask, aromatherapy, foot scrub, hand
rejuvenation) $100
Luxe Facial (85 min)
• Double cleanse
• Extended Massage
• Extractions
• Mask
• Serum
• Spf
• 2 add on (light therapy, high frequency, jelly mask, aromatherapy, foot scrub, hand
rejuvenation)
• Dermaplane $150
Back Facial (60 min)
• Double cleanse
• Massage
• extractions
• Mask
• Serum $100
Enhancements
• light therapy -$15
• high frequency -$15
• jelly mask -$15
• aromatherapy – $10
• foot scrub – $20
• hand rejuvenation -$20
Waxing
Brazilian – $70
W/ Vajacial – $115
Bikini -$50
Brazilian (men's wax) – $85 Chest -$50
Back -$50
Underarms -$20
Full legs – $70
Half legs -$50
Arms -$50
Tummy Strip – $20
Lip – $20
Brows and Lashes
Brow Shaping – $30
Brow Shape and Tint – $50
Brow Shaping and Lamination – $70 Brow Shaping, Lamination and Tint – $90
Lash Lift – $70
Lash Lift and Tint – $90